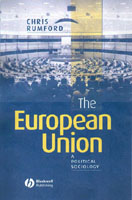 THE EUROPEAN UNION: a political sociology by Chris Rumford
Oxford: Blackwell, 2002. 320, £15.99, ISBN 0 631 22618 4
Readership: Advanced undergraduates, postgraduates, academic/research
Rating: ****
Reviewer: VASILIS MARGARAS(Loughborough University)
This book attempts an analysis of EU integration and EU policies through the prism of political sociology. In order to proceed with his basic aim, the author constructs a new notion of political sociology that overcomes
national boundaries and can be applied to the EU. This is achieved through a process of incorporation of social theory and new sociology elements into his theory. Issues affecting the nature of identity, modernity and globalisation are also integrated into a vibrant text that questions current assumptions concerning EU integration. The book analyses the impact of globalisation on the EU, as well as issues concerning the present and future European state, European society and democracy. Issues of core-periphery relations, as well as the link between unemployment, social exclusion and citizenship, are also taken into consideration. In addition, EU policies such as cohesion policy and enlargement are analysed in depth.
The book offers an alternative approach to the study of the EU from a sociological perspective, as the author manages to challenge basic assumptions about the nature of the EU and the integration process by using new theoretical appro-aches and useful examples. He also sets the debate within a globalisation context, which gives further credits to his arguments and makes his study even more up to date, cohesive and relevant to those who wish to obtain a holistic approach to European issues. His closing remarks about the existence of multiplicity of Europe(s) suggests that the EU is only one player at the European level and that many other networks and transnational social spaces interact amongst themselves, thus making the mosaic of Europe an even more complicated one.